Spamhaus Policy Block List (PBL)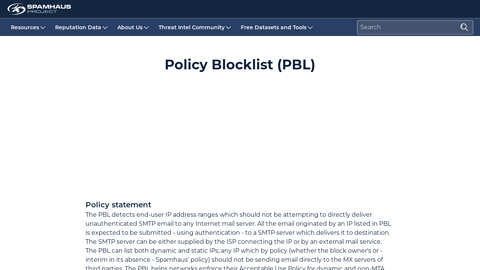 The Spamhaus PBL is a DNSBL database of end-user IP address ranges which should not be delivering unauthenticated SMTP email to any Internet mail server except those provided for specifically by an ISP for that customer's use. The PBL helps networks enforce their Acceptable Use Policy for dynamic and non-MTA customer IP ranges.
PBL IP address ranges are added and maintained by each network participating in the PBL project, working in conjunction with the Spamhaus PBL team, to help apply their outbound email policies.
We monitor this blacklist since 2015-01-01. More information: http://www.spamhaus.org/pbl/